'Kitna deti hai?' has long been the number one question on Indian car buyers' minds. You can go on and on about the wonderful features of your car and your friend will still make fun of you if the mileage of your car is less than his. 
With the move to BS6(Bharat Stage6), the auto industry in India is making a dramatic shift back to petrol power. BS stage emission norms are laid down by the government to curb pollution. These norms regulate the output of the air pollutants from the combustion engine, and the pollutants from the spark-ignition engine equipment as well. The result of these norms laid out is that car manufacturers have to create and market cars that are efficient, cheap, and cause less pollution than before. 
So if you are in the market for a fuel efficient car that is also environmentally friendly, we have compiled a list of the top 10 fuel efficient cars you can buy according to their ARAI (Automotive Research Association of India) rating
#10 Hyundai Grand i10 Nios (20.7kpl)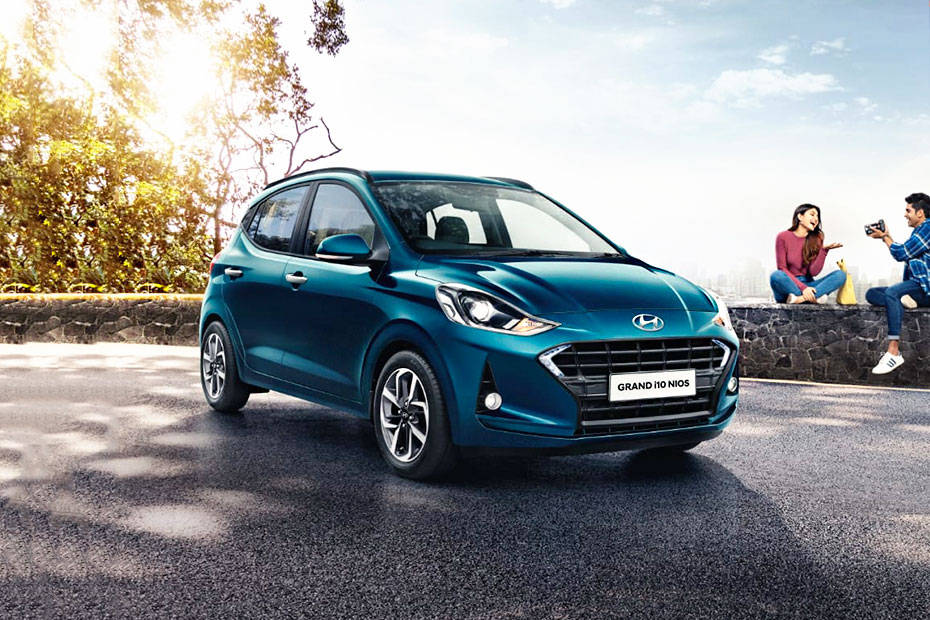 The first Hyundai i10 was one of the most sold Hyundai hatchbacks in India and also went on to be awarded the Autocar Car of the year in 2008. Hyundai Grand i10 was its next-generation model- and was far more premium, comfortable and thus, even bigger success. 
The third-generation model had the pressure of living up to the hype created by its predecessors. Hyundai Grand i10 Nios is an all-new model in the i10 lineup and builds upon the strengths of the i10 and i10 Grand to keep the legacy growing. 
The i10 Nios comes with a 1.2-liter petrol engine mated with a 5-speed manual gearbox and throws out an impressive mileage of 20.7KPL.  With its roomy cabin, trust-worthy brand name and a stellar performance, the Hyundai Grand i10 delivers on its value for money promise(the petrol variant's price ranges from Rs.5.05-7.67 lakh) and gives Maruti Swift a tough fight. 
#9 Maruti Suzuki Ignis(20.89kpl)
While Ignis may not have turned out to be a sales miracle Maruti Suzuki had hoped for, it still remains one of the most underrated hatchbacks in India. 
Maruti Suzuki Ignis is in its core a millennial car with a BS-6 compliant petrol engine. A curious crossover of a hatchback with SUV-like attributes, Maruti Suzuki Ignis tries to win-over both the segments. From design to safety, to practicality, Maruti Suzuki did with Ignis what it does best, striking the perfect balance between these important aspects, and giving an average Indian buyer a chic looking alternative with at par performance.
Ignis ranges between Rs. 4.89 lakh and goes up to Rs. 7.20 lakh. Powering the petrol Ignis is the familiar 1.2-liter K-Series engine which proved its mettle with cars like Swift & Baleno. The reliable engine produces 81 horsepower and provides an ARAI mileage of 20.89KPL.
#8 Maruti Suzuki Swift(21 KPL)
If you ask any Indian millennial to name a hatchback, Maruti Suzuki swift would be one of the first few names they would come up with. One of the highest selling hatchbacks in the Indian automotive market, Maruti Suzuki Swift has a new variant with a BS6 compliant engine. It is not only the engine that is new though, the 2020 version of the hatchback has also made a number of small but significant changes.
The new Swift is now equipped with more safety features in its base model. Complying with AIS-145 safety norms, all models of Swift now get a speed alert system, rear parking sensors and a co-driver seat belt reminder. 
Swift has always made sure to live up to its name and its newest model does that too. Thanks to the 1.2-liter petrol engine that produces 83hp, the hatchback can gallop on highways and move with agility on the city streets. Swift also has an impressive fuel economy number: 21kpl regardless of a 5-speed manual or 5-speed AMT gearbox.
Priced from Rs. 5.19 lakh and going up to Rs. 8.02 lakh, BS6 Maruti Swift is a perfect package to most Indian hatchback buyers.
#7 Maruti Suzuki Celerio(21.63 KPL)
The Celerio is a strangely neutral car, one that doesn't offend anyone thanks to its performance but also one that doesn't please with its lackluster appearance. Maruti Suzuki's Celerio just goes about being a simple car that is backed with Maruti's exemplary support and gives you a calm and comfortable experience. 
Styled with the similar design theme that Maruti has labeled as 'CICO' (Curve in, Curve out), Celerio's is subtle and some might also call it too conservative. One thing is clear though, Celerio's design is not groundbreaking in any sense of the word. 
But where Celerio lacks on the design front, it tries to make up for it through its performance. The car is equipped with a 998cc engine and comes with the option to be mated to either an AMT or a 5-speed manual. Regardless of the transmission options though, the car still manages to come close to its claimed mileage of 23.1KPL and delivers 21.63KPL.
#6 Maruti Suzuki WagonR BS6 (21.79KPL)
This city car has existed in the Indian markets for more than a decade. Launched on 18 December, 1999, the Wagon R has since undergone multiple upgrades.
Like most Maruti cars, one of the reasons people choose Maruti Suzuki WagonR over its counterpart is its economical engines.  This hatchback gets two variants – one with an engine unit of 68 horsepower 1 liter, and one with 83 horsepower 1.2-liter. 
This trust-worthy hatchback comes with standard safety features that include a driver airbag, ABS and even rear parking sensors. With a range of Rs 4.45 lakh to Rs 5.94 lakh, WagonR is one of the most lucrative deals and still remains as the choice of purchase for the average Indian buyer.
#5 Renault Kwid (22.50 KPL)
India is a country that has more than a billion citizens and not a whole lot of space to move around. That's why India is becoming a country that is choosing small cars over large ones, and for the right reasons. 
It's a market that has shown a counting growth and Renault jumped into the ocean with Kwid– a small, cute, cheap, and versatile city car. Although this is essentially a hatchback, there is still a charm to Kwid that most people don't expect for a car at its price. 
Kwid sets itself apart from its hatchback competitors beautifully thanks to its SUV inspired design, its digital dials, and a touchscreen system. With Kwid, Renault made a statement that a budget hatchback needs not to be boring and basic.
Coming to the meat of the matter, Kwid comes with 2 variants: one of 54hm with a 0.8-liter engine and one of 68 hp with a 1.0-liter engine. The 1.0 liter variant of the car goes to an impressive 22.50 km on one liter of petrol. Impressive as it is, even its 0.8-liter variant is as efficient with a mileage of 22.3kpl. This third most fuel-efficient car in India is priced in the range of Rs. 2.92 to 5.01 lakh.
#4 Maruti Suzuki Baleno BS6 (23.87KPL)
India's largest car manufacturer Maruti Suzuki entered the premium hatchback segment with Baleno in 2015. With exemplary sales and love from the audio heads across the country, they marketed a new variant of Baleno as the country's first mass-market car to be endowed with a BS compliant engine.
A hatchback lover's delight, Baleno's design was always aesthetically pleasing. With its new BS6 variant, it got even better. The facelifted premium hatchback now gets an angular grille lit by LED projector headlamps. The bumper of the car also got a facelift and with the new tweak, it now looks sporty and stylish. 
The new 2020 Maruti Suzuki Baleno gets two BS6-compliant petrol engines of the same displacement. The first one is a 1.2-liter K12B petrol motor and the second one being a 1.2-liter K12C Dual-Jet petrol engine. This lets Maruti Suzuki Baleno go on for 23.8 km in a single liter of petrol. 
#3 Tata Tiago(23.84 KPL)
Tata Motor's Tiago is a likable hatchback that is pitched as being the rival to most well-performing hatchbacks like Maruti Celerio and Hyundai i10.
Tata's smart hatchback comes with a 1.2liter engine which is BS6 compliant and produces 86hp. Tata Motor offers Tiago with both a 5-speed AMT gearbox and a 5-speed manual one. With the ARAI fuel figure for the petrol variant at a staggering 23.84kpl, Tata Tiago can also be considered a strong alternative to the cars in this list.
#2 Alto K10(23.95KPL)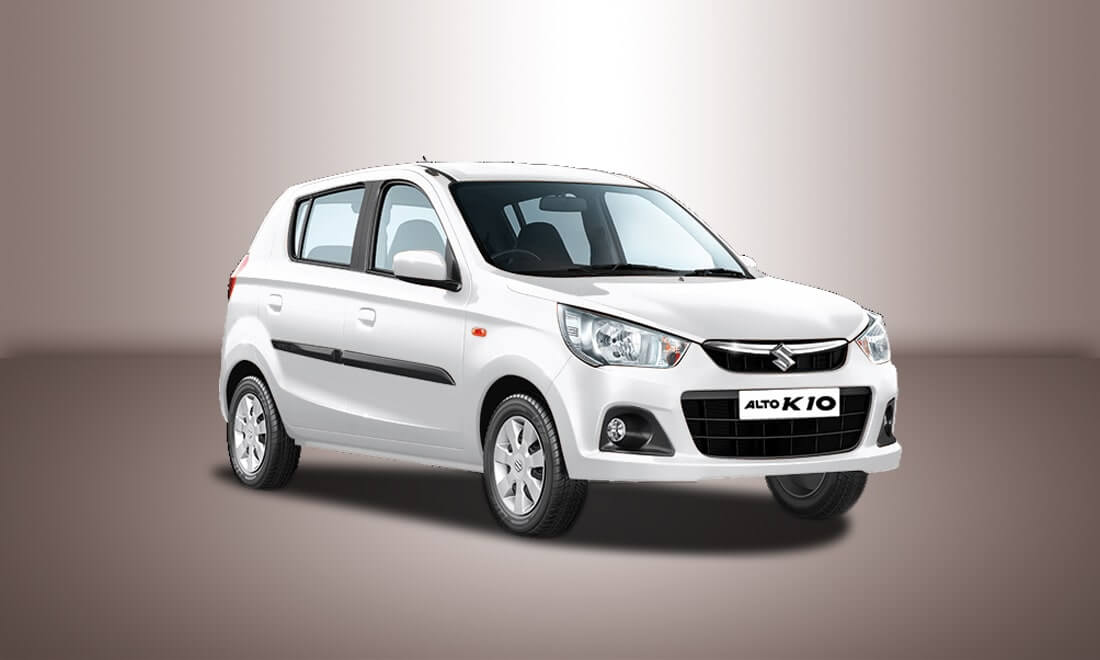 If you ask an Indian auto buyer why they chose Maruti Suzuki over other competitors, they would most probably state its excellent after sales service and affordability as the reason. This contributes to the domination Maruti Suzuki has in the Indian auto market. And Maruti Suzuki's K10 is one of the most convincing proofs of why the Indo-Japanese auto manufacturer is so successful in India.
Alto, like WagonR, has been an average India's go-to when it comes to getting a hatchback. But Alto's new variant K10 is a testament to how hatchbacks have improved. The new K10 is equipped with ABS, a speed alert system, smart reverse parking sensors, and a driver airbag. This is the first time these safety features are offered to the buyers as standard.
Now let's talk about the heart that makes this hare run. Alto K10's is powered by an economical 48hp, 0.8-liter engine that promises to deliver 23.95kpl. 
While the AltoK10 might feel too basic for some, its astonishingly low price(Rs.2.95-3.90lakh) and efficient performance make it one of the most popular buys in India. 
#1 Maruti Suzuki Dzire(24.12KPL)
Since its launch, Maruti Suzuki Dzire has enjoyed its place of being the best in its class. With its comfortable, well-equipped cabin and impeccable performance, Dzire is on the "wish-list" of potential car buyers across the country for being a versatile all-rounder. 
Maruti Suzuki's 2020 variant of Dzire came up with a complete overhaul: a complete facelift & a more responsive and efficient engine. The facelift includes a tall, single-frame hexagonal Bulgarian beard grill that almost reminds one of Audi. 
Besides the design though, one of the key changes made to Dzire has been the new 1.2liter K12N engine. This makes the new Dzire more powerful, and more efficient. With the 5-speed manual variant giving an impressive mileage of 23.26kpl, the 5-speed AMT gives the mileage of 24.12kpl. These numbers make Swift Dzire the most fuel-efficient premium hatchback in India.