Prime Minister Narendra Modi addressed the nation on Sunday with the 108th episode of his monthly radio programme, Mann Ki Baat. He highlighted some inspiring initiatives undertaken by the youth that are making a positive difference in people's lives.
German Singer's Passion for Indian Music
PM Modi spoke about 21-year old Cassandra Mae Spittmann from Germany, who has gained popularity singing Tamil devotional songs and songs in other Indian languages like Kannada, Sanskrit, Hindi, Malayalam etc.
Spittmann developed an interest in Indian music 5-6 years ago despite never having visited the country. The Prime Minister played two of her songs during the show – one Sanskrit and one Kannada song. He appreciated her efforts in mastering numerous Indian languages to sing songs.
#PMonAIR 🎙️||
wholeheartedly appreciate Germany's Cassandra Mae Spittmann 's passion for Indian culture and music. Her efforts are going to overwhelm every Indian.
For all of you, I am sharing here one of her songs sung in #Kannada : PM @narendramodi#MannKiBaat | @PMOIndia |… pic.twitter.com/wQnp09bSwY

— All India Radio News (@airnewsalerts) September 24, 2023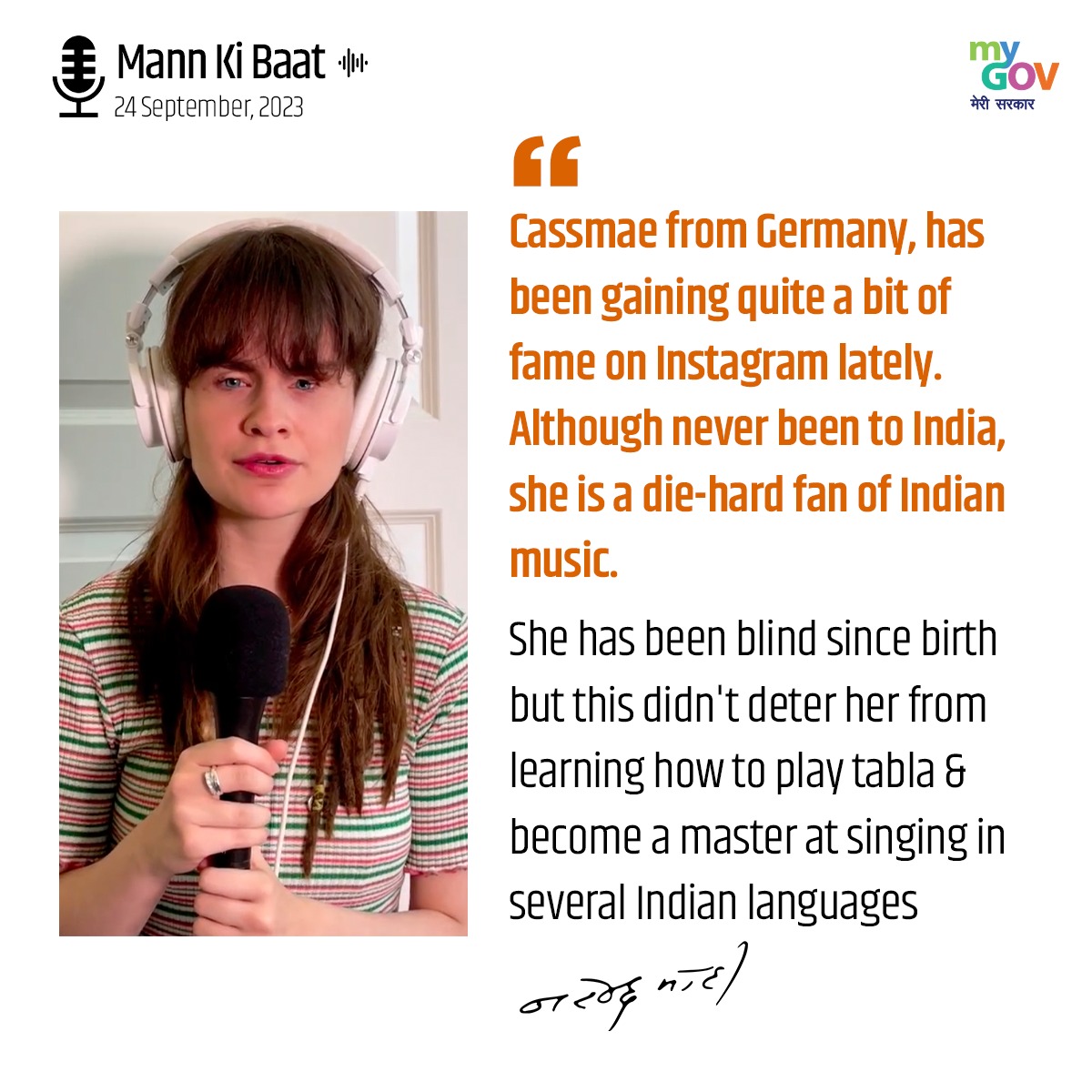 ---
Also Read: Jaya Bachchan and Jagdeep Dhankhar Share Light Moments During Women's Quota Bill Discussion in Rajya Sabha
---
Hyderabad Girl's Library Initiative
Mr. Modi also mentioned a 7th grade student, Akarshana Satish from Hyderabad who started 7 libraries on her own at just 11 years of age. She collected over 5800 used books from family, friends and neighbors to set up these libraries aimed at helping children.
The Prime Minister praised Akarshana's unique initiative and said it sets an example for many others.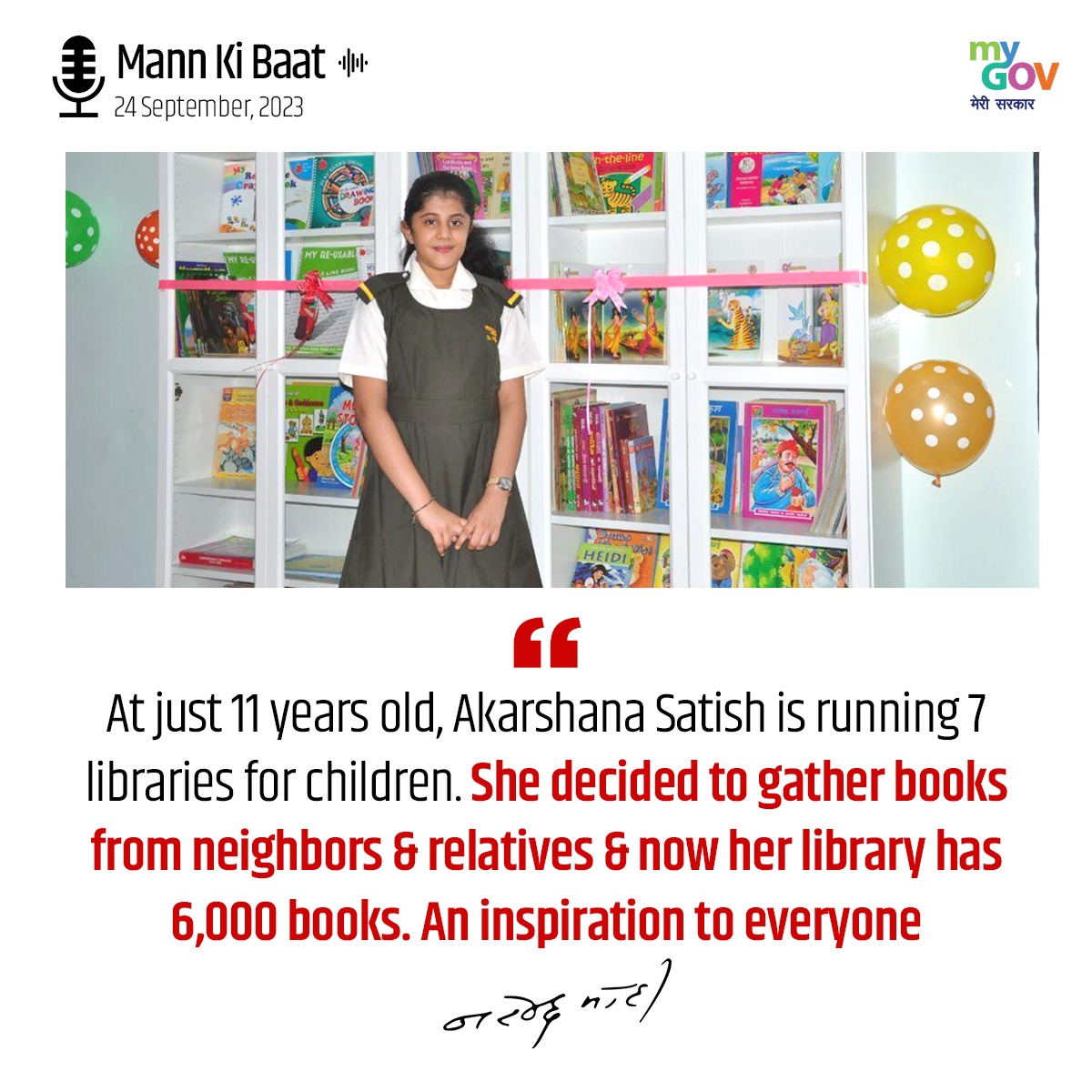 Ghoda Library in Uttarakhand
Additionally, PM Modi spoke about the innovative 'Ghoda Library' (Horse Library) launched by youth volunteers in Nainital district of Uttarakhand. They take books to remote villages on horses free of cost to promote reading among children. So far, they have covered 12 villages through this initiative.
Youth in Nainital district have started a unique 'Ghoda Library' for children.

Books are reaching children even in the most remote areas and not only this, the service is absolutely free. #MannKiBaat pic.twitter.com/2SvBII0vb4

— PMO India (@PMOIndia) September 24, 2023
---
Also Read: Bengaluru Woman Receives Unusual Business Proposal on Bumble
---
India's G20 Presidency and World Tourism Day
The Prime Minister also touched upon India's G20 presidency this year. He said over 1 lakh delegates from around the world attended various G20 meetings in different parts of India. He added that this allowed them to experience India's cultural diversity and heritage.
PM Modi noted that September 27 is celebrated as World Tourism Day and said India's tourism has risen substantially in the past few years. He also informed that the number of World Heritage sites in India has gone up to 42.
Call to Gift Made in India Products
With the festive season approaching, the Prime Minister urged people to buy and gift products made in India. He said this would help support local artisans and manufacturers.
The monthly Mann Ki Baat broadcast provides the Prime Minister a platform to discuss key issues and highlight inspirational stories from various parts of the country. Through this episode, PM Modi emphasized the efforts of the youth towards nation building and social causes.
---
Also Read: Legendary Malayalam Filmmaker KG George Passes Away at 77
---
Follow Us on Instagram | Twitter | Facebook | YouTube | Flipboard | Google News